Read our customer feedback
Everything is perfect. Thank you very much. [Two pairs of enamelled silver cufflinks - one in the form of bumble bees - TEUFEN, SWITZERLAND - March 2018]
Thanks. It looks really great. [Restoration of client's silver model of a tank - LONDON, UK - February 2018]
They look great. [Set of four large Georgian silver underplates, London date 1810 - HAMPSHIRE, UK - February 2018]
We are a family business in London selling the highest quality
new English handmade silver flatware and bespoke pieces.
We also source antique English silverware for private clients.
New Hand Forged
Silver Flatware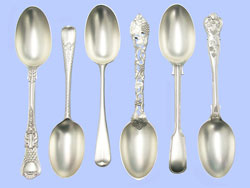 Order a new service of the world's finest silver flatware, made entirely by hand. Heavier and more defined than the rest.
Choose from sixteen patterns
Antique
Silver
We will find you beautiful English silver from before 1900. Candlesticks, teasets, beakers and goblets.
Here's how it works
New Handmade
Silver Models
Let us make a stunning silver model of something special in your life. Your yacht, plane, helicopter, car, house, pet or tank!
Take a look at our past successes
20th Century
Silver
We will find you elegant silver pieces from the last century. Bowls, trays, dishes and flatware.
Here's how it works
New Silver Cufflinks
and Shirt Studs
Wonderful new English cufflinks in silver and gold. With lapis lazuli, onyx, red cornelian, mother of pearl and enamel.
Browse our selection now
Restored Silver-Plated
Beef Carving Trolleys
We restore vintage carving trolleys for hotel, restaurant or domestic use. It makes the beef taste better.
Browse our current stock
Specialists in the Finest New English silverware,
flatware and bespoke pieces
At M P Levene, we make some of the finest silverware in the world. Our hand-forged silver flatware is made specially to order by the greatest English craftsmen. We produce stunning bespoke silver scale models of megayachts, superyachts, aeroplanes, tanks and cars. We've even made a silver clothes peg. Let us create that special piece for you in handmade sterling silver. No challenge is too great.
We also operate a sourcing service for the most elegant antique silver. We don't keep a stock any more, and prefer to hunt on behalf of our clients for those special English pieces. As members of the prestigious British Antique Dealers' Association, we only sell goods of the highest quality.
We also specialise in the refurbishment of old silver-plate beef carving trolleys, and we usually have one in stock available for sale. Whether you want it for a restaurant, club or private residence, we can ship anywhere in the world.
Our selection of silver and gold cufflinks and shirt studs is vast, and all of them are made here in England. They usually take around four weeks to complete. We are particularly proud of our special hand-enamelling service, where our artist can paint your house, pet, coat of arms or crest onto a cufflink face.
My great-grandfather Pierre Levene founded our business back in 1889. My grandfather Maurice opened up our famous South Kensington shop in 1926. My late father Colin expanded our international clientele. And now I am taking the business forward, using our website to reach lovers of silver around the world.
Whatever you're looking for, you'll receive courteous and personal service that you'll only find these days in a small, well-run family business. Please get in touch.
Martin Levene