18k Gold Cufflinks with Hand-Enamelled Newspapers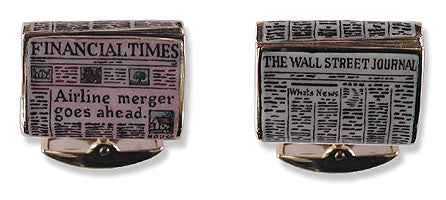 £5850 | &dolar;5,850.00 | €5,850.00
Stock number: CL041
Please get in touch if you are interested in purchasing this item.
18k Gold Cufflinks with Hand-Enamelled Newspapers
What a great idea for the ultimate personalised pair of cufflinks. A highly imaginative pair of 18k gold swivel cufflinks, with a newspaper masthead and headline hand-enamelled onto a 'front page'!  Choose your own newspaper(s), write your own headlines, and our artist will create a unique pair specially for you.
A fantastic once-in-a-lifetime gift, made possible by the skill and creativity of our enamellers. They are extremely popular, but take a few weeks to produce.  All the work is done by hand.
Only available in swivel (bar) form.
Order a pair of these showstopping 18k gold Hand-Enamelled Newspaper cufflinks by clicking the Enquire button above.  We ship worldwide.