18K Gold Shirt Studs - Round with Mother of Pearl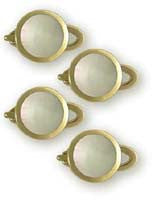 £1585 | &dolar;1,585.00 | €1,585.00
Stock number: SS05
Please get in touch if you are interested in purchasing this item.
18K Gold Shirt Studs - Round with Mother of Pearl
For a tuxedo night - a lovely classical set of four round 18 carat yellow gold shirt studs with white mother of pearl stones. With a swivel bar on each back to lock safely onto the shirt.  
The ultimate in classical elegance.  Liven up any black tie evening with this beautiful set of shirt studs. They will match any gold and pearl cufflinks.
Prices are for a set of four.
Order a set of these fine round 18k gold mother of pearl shirt studs by clicking the Enquire button above.  We ship worldwide.