'Sailing Yachts'
New Handmade Gold & Rock Crystal Cufflinks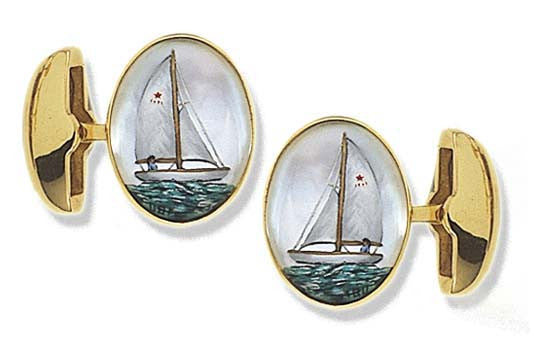 £4300 | &dolar;4,300.00 | €4,300.00
Stock number: CL146
Please get in touch if you are interested in purchasing this item.
'Sailing Yachts'
New Handmade Gold & Rock Crystal Cufflinks
A beautiful pair of 18 karat gold swivel cufflinks, with two faces featuring hand-carved and hand-painted sailing yachts in rock crystal. With a Mother of Pearl backing.
This is a highly skilled process that takes our master craftsman weeks to complete.  First he carves the image in all three dimensions into the back of the rock crystal. He then paints it 'backwards', starting with the highlights, then the main image and finally any background.  He uses a traditional brush with oil paint. But the process is very slow, because he has to allow several days for each layer of paint to dry.
Order a pair of these elegant gold rock crystal cufflinks with sailing yachts now by clicking the 'Enquire' button above. We ship worldwide.