Silver Cufflinks Enamelled as Four Aces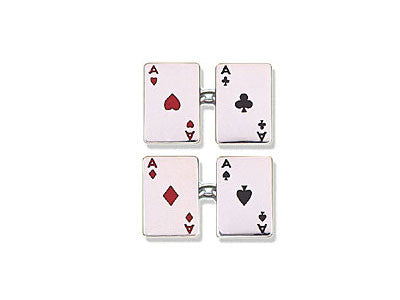 £225 | &dolar;225.00 | €225.00
Stock number: CL076
Please get in touch if you are interested in purchasing this item.
Silver Cufflinks Enamelled as Four Aces
A great pair of sterling silver cufflinks enamelled as four Aces.  The suits are depicted in red or black enamel on a plain polished silver background.
These are a great gift for someone who enjoys playing cards.  The sharp rectangular look is very attractive as a cufflink face. And because these are double-sided cufflinks, linked by a silver chain, you have an Ace on either side of the cuff.
Also available in swivel (bar) form -- with just two Aces (you choose which ones).
Order a pair of these silver cufflinks enamelled as four Aces by clicking the 'Enquire' button above.  Handmade in England.