Silver Red Enamel Cufflinks with Blue Lattice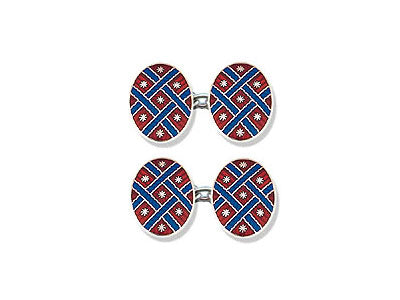 £270 | &dolar;270.00 | €270.00
Stock number: CL026
Please get in touch if you are interested in purchasing this item.
Silver Red Enamel Cufflinks with Blue Lattice
A very popular oval pair of silver red enamel cufflinks with blue lattice.
There are small silver stars inside the red diamonds. 
This combination of colours is one of our best-sellers, and they are certainly a 'safe' gift!!  Most clients are very comfortable with this classical combination of red and blue enamel.  They are suitable for casual or formal wear.  They are double-sided, linked by a silver chain, and therefore have something of 'interest' on each side of the cuff.
Also available in swivel (bar) form.
Order a pair of these traditional silver red enamel cufflinks with blue lattice by clicking on the 'Enquire' button above.  Handmade in England.