New Silver Cigarette Box With Domed Lid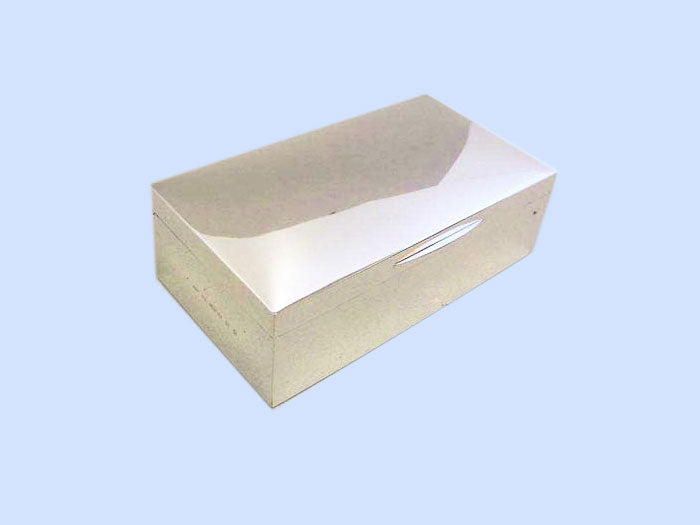 Stock number: NSG34
Get in touch if you are interested in commissioning a new New Silver Cigarette Box With Domed Lid for your own.
New Silver Cigarette Box With Domed Lid
New silver cigarette box is handmade from fine sterling silver here at M. P. Levene, London's top silver store.  Oblong shaped cigarette box is plain with straight sides and edges and a domed lid. The insides are lined with high quality cedar wood. This particular cigarette box is designed to take 100 regular size cigarettes.
We also do personal inscriptions on the cigarette box. We inscribe the dates of special occasion or the names of people whom you want to gift it to. Here is one such cigarette box that reflects our expertise in this field. All that you have to do is, email us images of initials and signatures or anything that you want to be inscribed on the lid of the cigarette box. We shall take care of the rest.
You can also find cigarette boxes exclusively made to take 100 king size cigarettes. Choice is yours. Decide and then place an order with inscription details.
---
Length
6 1/2 inches (16.5 cm)
Width
3 1/2 inches  (9 cm)
Height
32 inches (5 cm)