'The Horse Race'
New Hand-Enamelled Silver Cufflinks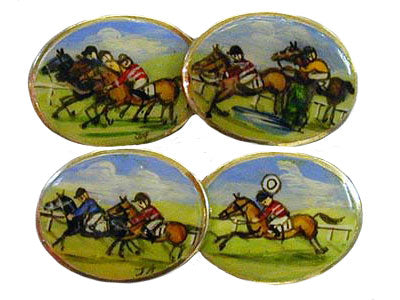 £475 | &dolar;475.00 | €475.00
Stock number: CL095
Please get in touch if you are interested in purchasing this item.
'The Horse Race'
New Hand-Enamelled Silver Cufflinks
We took a pair of plain oval silver chain cufflinks and gave them to our artist. She then hand-enamelled four scenes from a horse race, from the starting pistol to the finishing post.
We specialise in this form of enamelling silver cufflinks -- it's very skilled and slow, because each face is painted entirely by hand.
And we can even make a special pair of silver or gold cufflinks just for you - featuring your own design. Just send us some pictures, and we'll do the rest. Your cat, your dog, your horse, your house, your car - even your plane? .
Email us now if you'd like us to quote for something special.
Meanwhile, order a pair of these lovely hand-enamelled silver horse race cufflinks now by clicking the Enquire button above. We ship worldwide.