Silver 'Skull & Crossbone' Enamel Cufflinks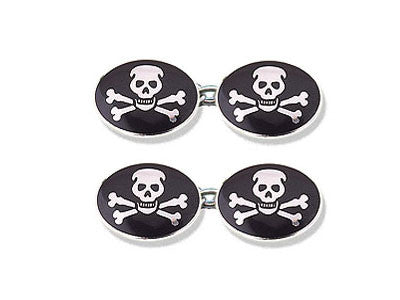 £225 | &dolar;225.00 | €225.00
Stock number: CL024
Please get in touch if you are interested in purchasing this item.
Silver 'Skull & Crossbone' Enamel Cufflinks
A marvellous pair of oval sterling silver 'Skull & Crossbone' enamel cufflinks.  The motifs are in silver, on a typically black background.
These are a classic in our collection, and perfect for a fun evening like a stag night.  Alternatively, some clients save them up for black tie evenings!  These are double sided cufflinks, linked by a silver chain, and therefore you have an enamel face on each side of the cuff.
Also available in swivel (bar) form.
Order a pair of these highly celebrated silver 'skull & crossbone' enamel cufflinks by clicking the 'Enquire' button above.  Handmade in England